Symposium 2016-2017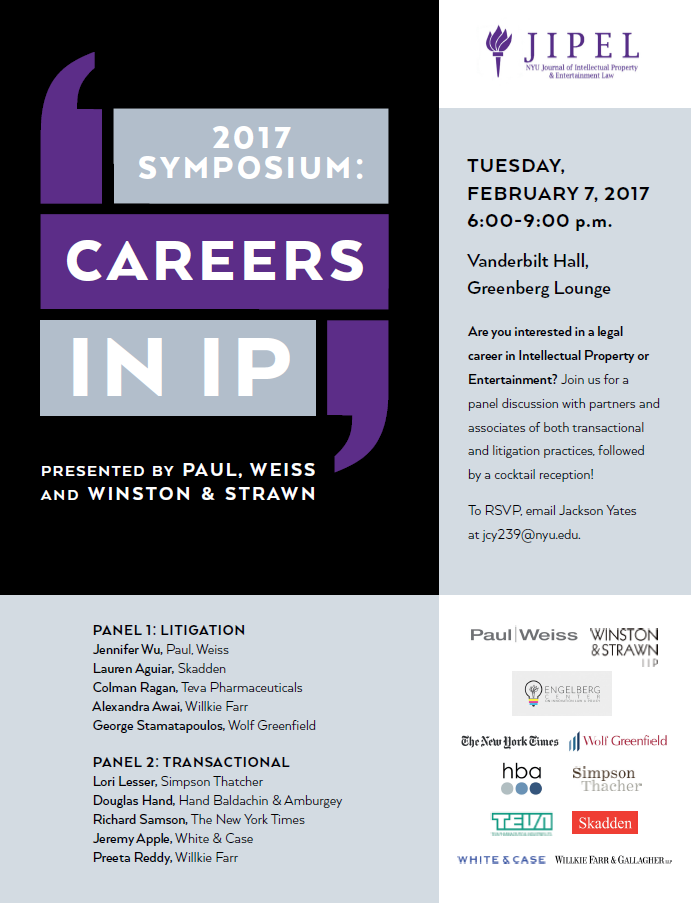 Anne Hassett, the executive director of NYU Law's Engelberg Center on Innovation Law & Policy, moderated the evening's first panel, which focused on IP attorneys with litigation practices. The panelists emphasized that many roads lead to IP litigation. Whereas Skadden partner Lauren Aguiar ('95) began her legal career without a definite interest in IP, Wilkie Farr associate Alexandra Awai joked that being an IP attorney had been in her plans since early childhood. The panel also discussed some recurring themes of the litigation practice area. Paul, Weiss partner Jennifer Wu ('04) talked about the challenges of presenting complex and highly technical factual scenarios to lay juries, and Teva Pharmaceutical's Colman Ragan emphasized a similar challenge in presenting legal issues within the context of a business case to non-lawyer managers and directors. Finally, Gibson Dunn's George Stamatopoulos ('12) recounted his experience pursuing a JD as a Greek international student with a background in mechanical engineering.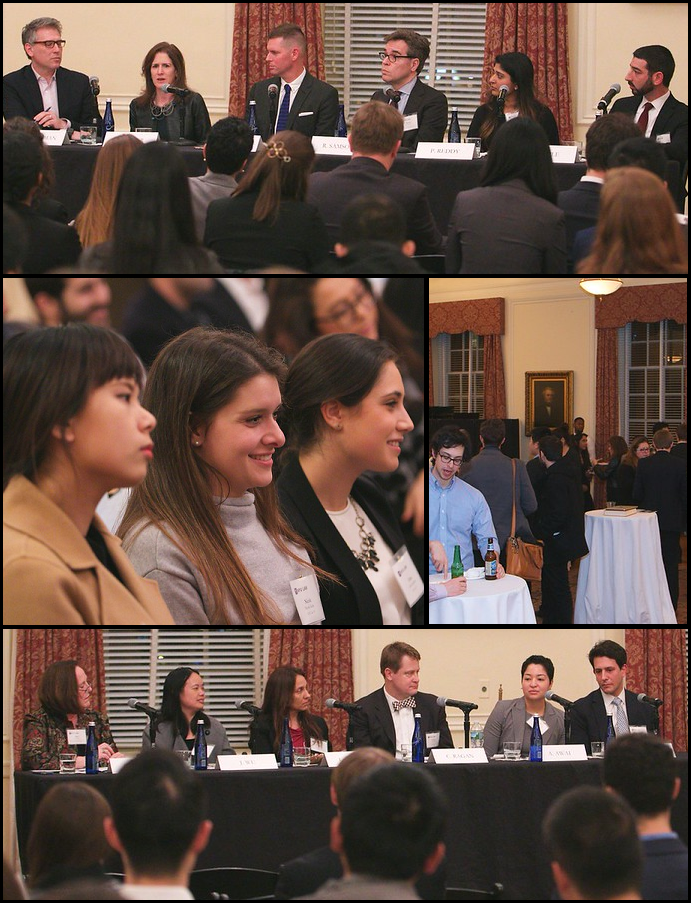 ©NYU Photo Bureau: Slezak
The second panel of the evening focused on attorneys with transactional practices, and NYU Professor of Law Christopher Sprigman facilitated discussion. Lori Lesser, the Head of Simpson Thacher's Intellectual Property Transactions Practice, advised students to be receptive to unplanned opportunities. Indeed, the panelists all agreed that elements of luck and "being in the right place at the right time" played a bigger part in their career trajectories than they had anticipated as law students. Panelists also talked about their experiences developing niche practices. Douglas Hand ('97) described the transition from working as an M&A associate at a big firm to starting his own boutique, Hand Baldachin & Amburgey LLP, which represents clients in the fashion industry. Conversely, White & Case's Jeremy Apple discussed how his public sector experience in cybersecurity and privacy led him to a position in big law. In addition, Preeta Reddy talked about life as a junior IP associate at Wilkie Farr, and Richard Samson reflected on his work reviewing content for the New York Times as part of its legal team. After a question-and-answer period, the panelists and attendees enjoyed the opportunity to talk further over cocktails and refreshments. All in all, it was lively and informative night for students excited by the prospect of working in IP.
Scheduled Events

Litigation Panel
– Moderated by Anne Hassett, Engelberg Center on Innovation Law and Policy
Transaction Panel
– Moderated by Christopher Jon Sprigman, Professor at NYU Law
JIPEL's 2017 "Careers in IP Symposium" brought together a broad cross-section of attorneys specializing in intellectual property law. Speakers included both established partners and young associates with experience at large and boutique law firms, as well as in-house counsel for a major pharmaceutical company and the New York Times. The panelists' collective expertise ranged from concentrations in cybersecurity and data privacy to patent law to fashion law.
---
Symposium 2015-2016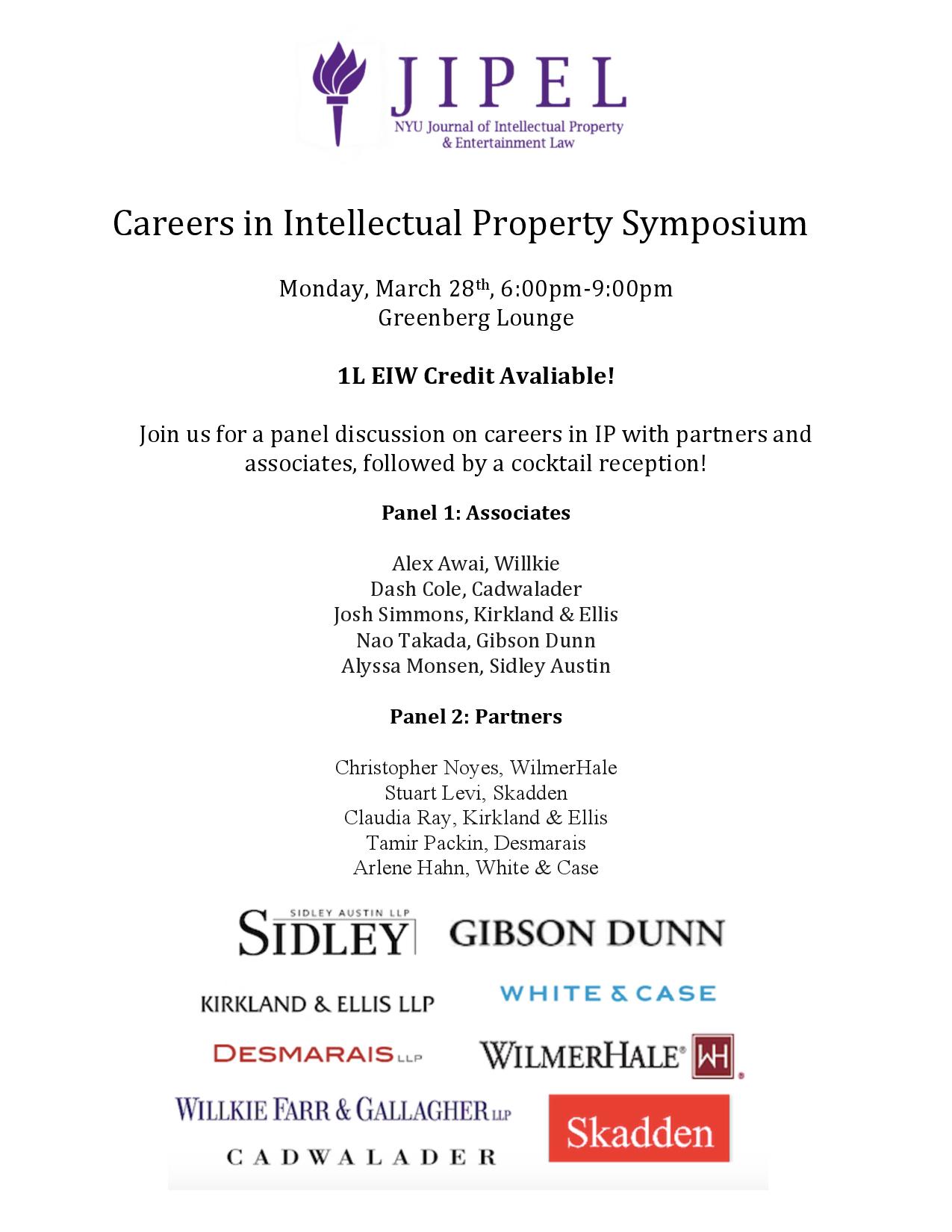 The associate panel will explore the experience of associates in a law firm. Topics will involve discussion around choosing a firm and practice area, the associates' experiences, and interesting IP matters they have worked on. This is a great opportunity to showcase the various options a firm can offer associates who are just getting started in their careers from the perspective of attorneys who have already accumulated a few years of experience in the IP field.
The partner panel will feature more established attorneys who will discuss their career trajectory and the most compelling matters they have participated in recently and during their career. Panelists will discuss Careers in IP from the perspective of those who have been in the practice the longest and will offer complex insight into the demands of an ever-changing legal field like IP. The panel will explore the unique challenges the most senior attorneys face as they manage, oversee, mentor, and train attorneys in their practice, while also remaining in the forefront of developing IP matters.
Scheduled Events

Panel 1: Associates in IP
Moderator:
Katherine Strandburg; Alfred B. Engelberg Professor of Law at New York University School of Law
Panelists:
Panel 2: Partners in IP
Moderator:
Annemarie Hassett; Executive Director of the New York University School of Law Engelberg Center on Innovation Law and Policy
Panelists:
The purpose of this Symposium is to provide students with a firsthand opportunity to meet practitioners who are respected in their field and to discuss potential career paths in intellectual property. By having one panel with partners and a second with associates, we hope to provide a broad perspective on the opportunities available to students within the field of intellectual property law at various stages of their legal career. This event is geared towards first and second year law students looking for guidance as they begin their career in law, and third year students seeking mentorship in their career trajectory.
---
Symposium 2014-2015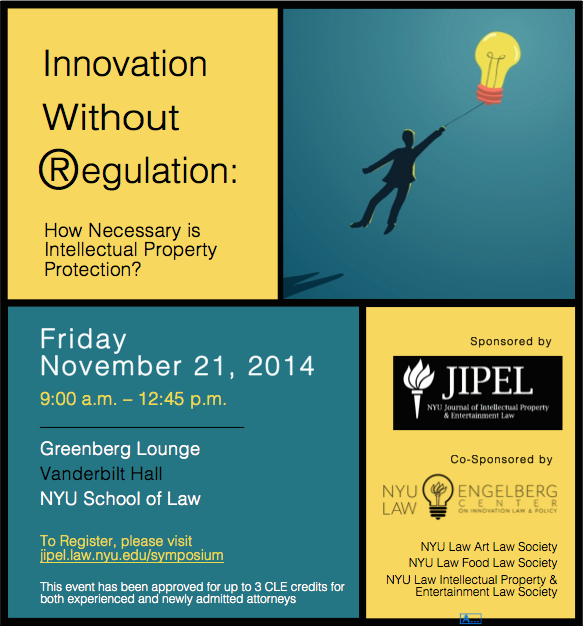 Scheduled Events

Panel 1: Creative Fields Resisting IP
Moderator:
Christopher Sprigman; Professor of Law at New York University School of Law
Panelists:
Orin Snyder; Partner at Gibson, Dunn & Crutcher
Jim Mendrinos; Comedian and Writer
Daniel Dardani; Technology Licensing Officer at M.I.T.'s Technology Licensing Office
Jason Schultz; Professor of Clinical Law at New York University School of Law
Panel 2: Industries Seeking the Expansion of IP
Moderator:
Barbara Kolsun; General Counsel at Stuart Weitzman
Panelists:
Lee Sporn; General Counsel at Michael Kors
Brandon Sun; Fashion Designer and Founder of Brandon Sun
Charles C. Valauskas; Founding Partner of Valauskas Corder LLC
Rebecca Charles; Owner and Head Chef at Pearl Oyster Bar
Research Presentation
Presenter:
Jessica Silbey; Professor of Law at Suffolk University Law School
Moderator:
Amy Adler; Emily Kempin Professor of Law at New York University School of Law
Supplemental Materials
"The Piracy Paradox" by Profs. Raustiala & Sprigman

An excerpt from Knockoff Economy by Profs. Raustiala & Sprigman
In addition to these two documents, an excerpt from Jessica Silbey's upcoming book,
The Eureka Myth
, was made available in hard copy at the event.
The purpose of the symposium was to address the underlying policy concerns supporting intellectual property regulation in light of varying industry norms and market forces suggesting that such regulation may not be the only source of protection. By establishing a wide-ranging board of presenters, we hoped to provide varying perspectives on the application of intellectual property theories in various creative fields. Our panelists included academics, active practitioners, and creative professionals. The symposium specifically focused on fields either attempting to gain protection under Intellectual Property regulation or operate outside of regulatory protection.