Miami Mayor Francis Suarez went viral in late 2020 after a venture capitalist's tweet suggested that Silicon Valley should be relocated to Miami by responding, "How can I help?" Brief as it was, the tweet from Suarez, now concurrently in an of-counsel role at the local outpost of Quinn Emanuel, captured an eagerness common among legal professionals in the city. Attorneys were looking not only to capitalize on but lead in the development of the city's tech industry.
Since the start of the pandemic, Miami has hosted a notable influx of startups in the technology sector as part of a greater movement of industry to the city. Naturally, even as local law firms expanded, major international law firms without a South Florida presence rushed in, and the floodgates have yet to close. I witnessed these changes firsthand over the course of my two-month summer associate role at the Miami office of Greenberg Traurig, which opened over five decades ago. My most significant project put me in the middle of an eight-figure VC investment in a metaverse company. But these types of deals are not entirely new in town. Jaret Davis, one of the office's co-managing shareholders and a major presence in the Miami legal community, has centered his practice around the technology space for around 25 years.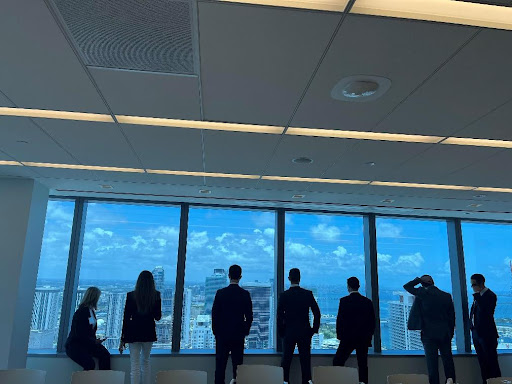 "For about ten years, I have been traveling the world–I've gone to Norway, I've gone to Montreal, et cetera–helping them prop up their tech ecosystems, and I always tell them the same thing, which is that Miami is the best-kept secret in the world," Davis recounted. "It's no longer a secret."
What struck me during my associateship was how involved attorneys like Davis and the rest of his team were able to be with their tech clients. Legal counsel aside, it was clear that they played a guiding role in the overall direction of the city's expanding innovation.
"[As] lawyers, the role we play in many ways is that we tend to be the quarterback," Davis explained. "One of the top questions I get asked all the time by technology CEOs is 'What's market these days? What are you seeing in the markets?'"Under Davis's leadership, Greenberg Traurig's Miami office helped found eMerge Americas, a global technology conference created in Miami back in 2014. He continues to serve as General Counsel for the conference, and since the outset, he's been a part of structuring business models for startups. As legal counsel to tech companies, he finds that his relationship with his clients often turns into one similar in advisory nature to sitting on their board of directors.
"Probably half the conference calls I get scheduled on with my clients and pulled onto, they'll preface by saying, 'This isn't really legal advice we're looking for, Jaret, we're looking for just based on your experience how we should handle this,'" Davis said. "If you take the average CEO of a company, they're doing their jobs–their nose is to the grindstone, they're working hard, they're rapidly scaling their company–but they may not have time to go to every conference. So I think they see us as a great source of information out there [and] as great consultancy."
The hyper-involved role of attorneys in Miami's innovative progress also extends to local politicians. Mayor of Miami Beach Dan Gelber has worked with the community to invest in new technologies and infrastructural improvements to combat the threat of sea level rise resulting from climate change. When Miami became the first city to accept cryptocurrency in certain transactions using 'MiamiCoin,' Mayor Suarez suggested this could be an avenue towards replacing the traditional tax system.
The South Florida city has long been a focal point of movement and change. Its close proximity to Latin America facilitated the dominant impact of the Latinx and Caribbean communities on the landscape, as well as the growth of the active shipping industry. The evolution of the city has, according to Davis, made Miami an ideal place for lawyers to work.
"Having all those different patterns coming in drives that diversity of thought that's so critical to a good legal landscape," Davis said. "It's good that we can have that diversity of industry that allows us to think in different ways and keep creative."
As Miami continues on its path ahead as a now-major player in both the technology and legal worlds, the attorneys some forty-plus floors up from ground level at Greenberg's founding office share an active role in helping to shape the city's future.
"Part of our moral obligations as lawyers is to have an impact on our society," Davis stated. "The way our profession trains us, the way we look at the world, it does to some extent make us futurists. You're constantly wondering what's going to be the next innovation."